No perve, just curve
Buy this artwork wholesale.
Display it in your sportsbar or club.
Sell it at retail price.
Start Shopping
SALES to PUBLIC
We do not sell driectly to retail customers. The Black Velvet Collection is available at a wide range of museums, galleries, nightclubs, and various retail stores. We only sell through registered retail outlets to ensure an honorable partnership with our distributors and not undercut their sales.

Message Us, and we will help you find a distributor close to you, where you can make a purchase.

RETAIL OUTLETS
Start selling at your Nightclub, Bar, Pool Hall, Poker Room, Gentlemen's Club, or Adult Store.


Turn WALL SPACE, into MONEY SPACE!
Retail brick & mortar establishments are perfect for the sale of high-end, fine-art. Even if your business has nothing to do with art in the first place, walk-ins and impulse buyers can be very profitable for your business.
MUSEUMS and GALLERIES
Display and sell at your Museum, Gallery, Exhibit, or Art Show.


If you manage a museum or gallery and would like to display a selection of works from our collection, message us directly and we can make arrangements.
Who is this for?
Sports Bars, Nightclubs, Bars, Pool Halls, Poker Rooms, Gentlemen's Clubs, Adult Stores, Fetish Stores, Fetish Clubs, Swingers Clubs, and any retail location with wallspace that isn't making money.
How does it work?
We create provocative and eye-catching art for you to sell. It's that simple. Swap out static posters and neon signs and start making money selling fine-art photography.
What do I get?
Each photo comes with a certificate of authenticy, a museum-style sales placard, hangers, and even stick-on Velco to mount the pricing placard. This gives your customers all the information they need to make a purchase right where it is. When you make a sale, the customer takes the photo right then and there. You can then reorder a replacement photo from our collection. Rinse and repeat.
Tell me about the quality of the product
You can order the photos on Poster Board (least cost), 3mm Dibond® (medium cost with excellent quality), or Chromaluxe® aluminum panel (highest quality). We leave the pricing placard blank so you can decide your own markup.
What about my location?
Unconventional venues such as nightclubs and bars are the most profitable places to display and sell art, as location has no impact on profitability. The majority of galleries are centrally located within a major city, making rent the largest challenge for a conventional gallery.
Why is a provocative theme a good match for my nightclub, bar, or venue?
Erotic and Fetish art is controversial. Eye-catching photos, placed in a fine-art setting, gives the work validity and class. Everyone will talk about it - some will buy it.
If people go to your website and see a different photo they want, will I still be recognized for the sale?
Yes you will. We do not sell directly to the public. If a customer sees something in your nightclub or bar, then visits the website to purchase a different piece from the collection, you will still be awarded the sale.
Who buys art, and who doesn't?
The most frequent
visitors
to a gallery are "Art Enthusiasts", and "The Opening Crowd", who either come to see the works of art, or who attend a new exhibition for social interaction. Neither group buys.
The most frequent
buyers
are the "Art Lovers", and the "One-Time Buyer". The first group, has a passion for art rather than seeing it as an investment, while the second group, the most valuable client, buys with a decorative purpose in mind.
This is why retail brick & mortar establishments are perfect for the sale of fine-art photography. Even if the business has nothing to do with art in the first place, walk-in & impulse buyers can be very profitable for your business.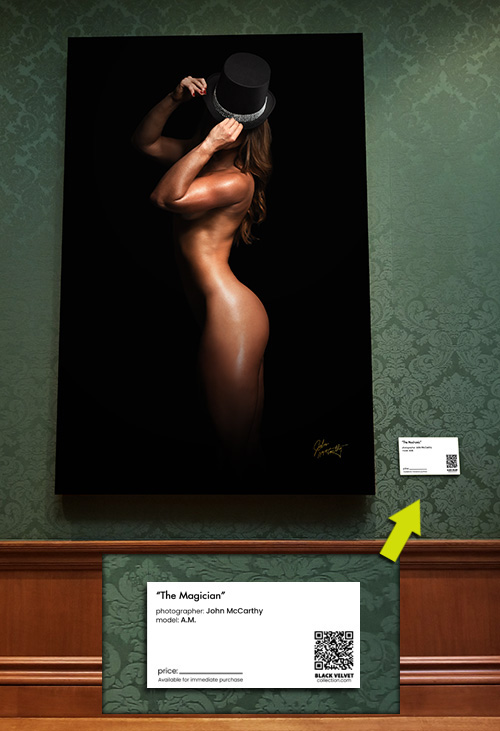 Each masterpiece comes with a museum-style placard so your customers know the photo is available for immediate purchase. We leave the price section empty so you can decide on your own markup. Placards are attached with Velco® so you can easilly replace the photo and placard once a sale is made.